While our family is in transit to Europe today, I asked Bethaney from Flashpacker Family to share some of her best packing tips. She sent this to me before we left, but I thought it would be the perfect addition to Travel Tips Tuesday so you can learn a little more about what it takes to start packing like a pro.
Keryn is off to Europe with her two tots. I thought she'd jump at the chance for a little packing advice. She's a self-confessed terrible packer. I'm hoping that she'll listen to my advice and didn't leave everything to the last minute! (I did listen! – Keryn)
Through years of travel I've honed my packing skills and now have it down to a fine art. My top tips for packing like a pro are to decide what to take, edit it and, once packed, keep your gear separated and organized.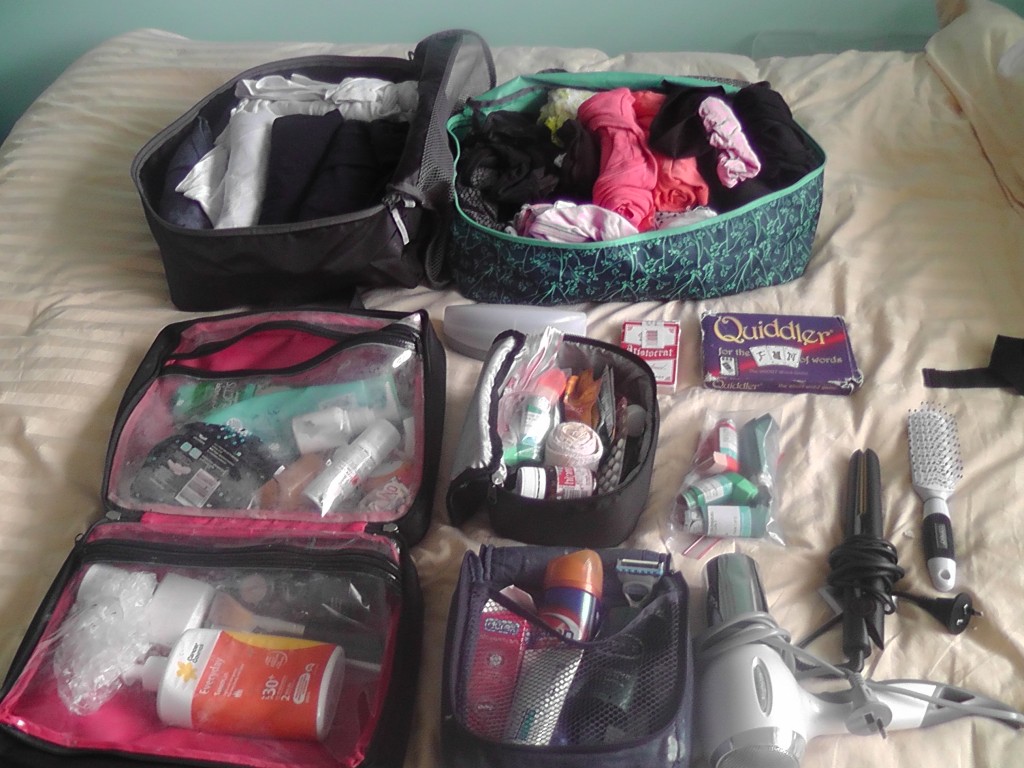 Decide
Make piles. A week or so out from a trip, start laying out what you think you'll take in piles in a spare room, the laundry or across the bedroom floor. Make a pile for each person, a pile for stuff you'll share and a pile for your electronics, books and other gear.
Toiletries are about the only thing you should pack at the last minute. You can't exactly pack your toothbrush until the morning you leave. If you need any travel minis, put them on your grocery list in the weeks leading up to your trip. It's not a big deal to leave something behind as most toiletries are easy to pick up along the way. Don't stress about this too much. Keep bottles compact and only take the essentials.
Keep it simple.You need as much clothing for a weekend away as you would for a two-month trip… with the exception of underwear. Bring as much underwear as you can. (I'm OK with wearing a slightly grubby pair of jeans but no way am I wearing the same pair of underwear two days running.)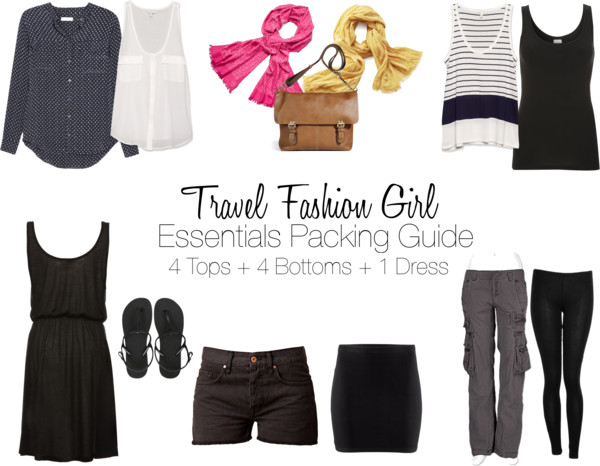 Make sure all the clothes you take tick three boxes – fashion, form and function. Think about how you're going to look and feel on the road. You don't want to be uncomfortable but equally you don't want to look like a sloppy backpacker! Stick with one or two color schemes. Make sure all your pieces are interchangeable. Take things you know you'll wear.
Pick multi-functional items. Go for a sarong you can wear at the beach and double over as cute scarf for city wear. Under no circumstances should you pack zip-off pants! (Unless you're planning an Amazonian jungle trek.) They're not flattering and look dorky.
Pack twice as much for the kids as you'd need for yourself. Kids are gross – they're sticky, boogery and drooly messes (but we love them anyway!). Bank on them going through double the amount of clothing as you would on a daily basis. Go for dark colors and patterns that won't show up a little chocolate stain. Pick clothes that you can wash well and dry quickly in a hotel sink if need be.
Choose the right bag. Think about the amount of luggage you can physically carry or wheel through an airport. Go for the smallest bag you can. If you're traveling with kids, one big bag is better than multiple small bags.
Edit
Take half of what you think you need.That's right. Pick up half the stuff in your piles and put it back in your closet. You don't need it. You won't need it. If you find you're missing that second cardigan, you can always pick one up on the road. Besides, wouldn't you rather have a cardigan from Paris or Rome than the one sitting at home on your shelf?
Condense. Share everything you can. Pick toiletries the whole family can use. (I draw the line at wearing men's deodorant though!). You don't need two iPhone chargers. Pare back your make-up to the bare essentials. When it comes to kid's toys, keep it simple – a few books, crayons and one or two toys is all you'll need.
Keep a third of your luggage space empty. You might need to pick up a jacket on the road or tuck your kid's toy bag into your luggage to make it easier to move through a crowded train station.
Separate and Organize
Separate each family member's clothing into one packing cell. Pick different colors for each person. This makes it super easy to find what you're looking for and you can pick them up and drop them in a drawer if you're staying somewhere longer term.
Ziploc bags are your new best friend. Put all your chargers in one bag. Ditch the bulky toiletries bag and use a Ziploc bag instead. Use them to keep track of kiddie bits and piece – a bag for dummies and bottles, crayons and matchbox cars.
Pack what you'll need immediately upon arrival on top of your bag. You want to quick access to your crib sheets, blankets and pajamas if you're arriving late at night.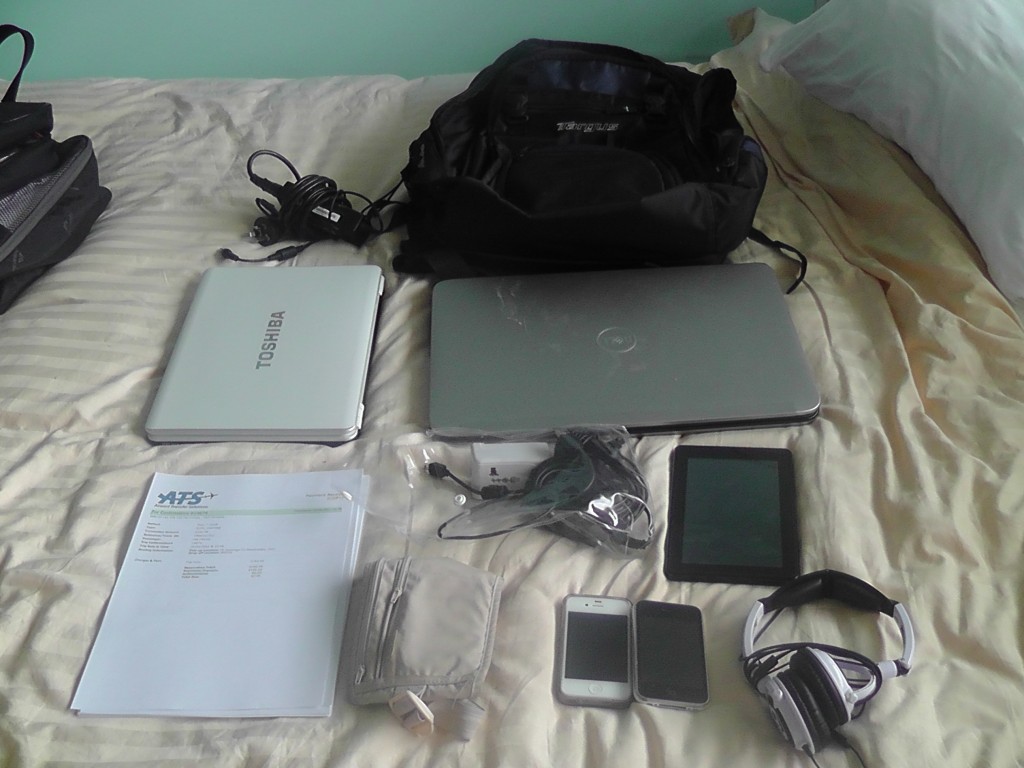 A Few Final Tips for Your Carry On
Keep your carry on luggage simple! Especially if you're trying to balance a baby on one hip while going through airport security, taking your shoes off and folding up your toddler's stroller!!
Put what you need access to in a hurry on top or in a side pocket.
Pack a change of clothes… for everyone. You never know when a diaper will fail or projectile vomiting will ensue!
Take enough diapers, formula and snacks in case you're stuck in the airport waiting on a delayed flight or your luggage gets lost.
Print out any e-tickets or hotel booking confirmations and put them in chronological order based on when you'll need them.
Let you toddler take responsibility for his own carry-on.
Choose a small backpack and fill it with their essentials – snacks, sippy cup, stories, coloring books, crayons and small toys. Be prepared to carry it yourself or squeeze it into your carry-on if need be.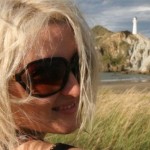 Bethaney Davies is one third of Flashpacker Family – a semi-nomadic, globetrotting family from Christchurch, New Zealand. Bethaney, Lee and their toddler Reuben spend half the year at home and the rest out exploring and enjoying the world. Flashpacker Family has great tales from the road, tips on travelling on a budget & travelling with a toddler and information on living a location independent lifestyle. You can follow Bethaney on Twitter and Facebook. Look out for #flashpackerfashion posts and discussion on Twitter every Friday. All images property of Flashpacker Family unless otherwise noted.